25-05-2019
New tool for stretching!

As you know I love fisting my slave and I love that he stretches his ass giving me easy access to his warm and vulnerable inside. Yesterday it finally arrived!: Our newest tool for stretching my slave's ass!

As usual we have taken our own advice on buying dildos very seriously and have purchased a prime toy made of 100% platinum silicon - making absolutely sure that we don't have to worry about any strange chemicals getting inside my slave's body.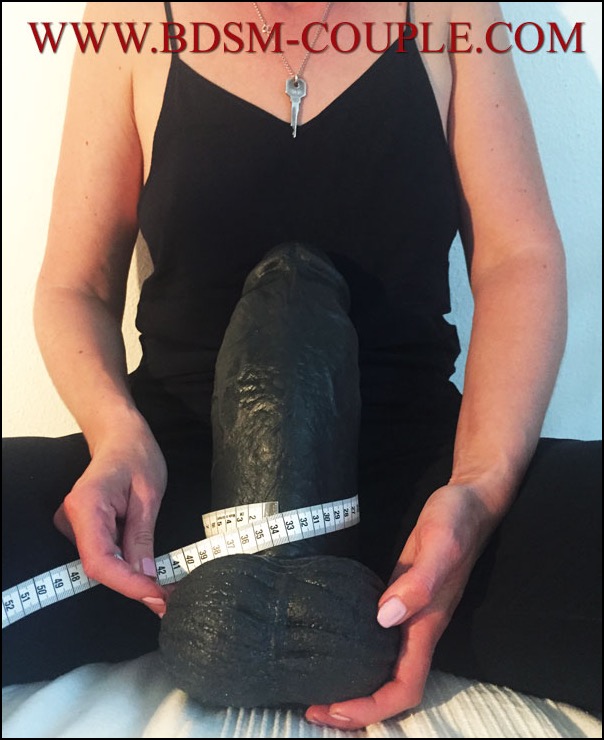 It's absolutely HUGE! As you can see in the photo, the circumference is 33 cm. To be honest I doubt it very much if my slave will be able to impale himself on this monster.

But I certainly expect him to put his back into it - and as Mr. Chamberlain said after his talk with Herr Hitler in 1938: " If at first you don't succeed, try, try, try again!". That is what I expect him to do!

I am really looking forward to watching my slave use his entire weight to force it as deep inside his body as possible. To hear him moan. To watch him sweat. And to watch the lube drip from his wide open ass!

As soon as all the kids are out of the house at the same time I'll tell him to get clean and get to work…. Of course I'll keep you poste on his effort and in the mean time, you can watch me present the black monster in the little video below. Enjoy!


When we post blog entries like this we usually get e-mails with questions about the toy and where to buy it. I'll save us all some time and provide the information:
The dildo is called "Topher Michels", it's size XXXL. It comes in different sizes, and you can get your very own at Mrhankeystoys.com.

Miss M.


Don't forget to follow us:



OnlyFans



Pornhub



Twitter



Tumblr


Instagram