ORGASMS & CANING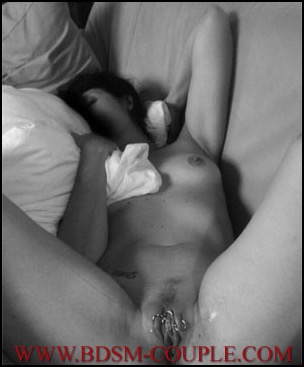 First of all I must tell all the ladies reading this, that I have
NEVER EVER
had so many orgasms than since I locked my slave in chastity and we began living in a Female Led Relationship.
My slave is
SO
eager to use his tongue, that I just have to point at my pussy to make him start licking in a jiffy!
I sometimes wake him up in the middle of the night and whisper "lick"…. and he is extremely happy to do so!
Have a peek a the photo on the right. That's me on cloud nine … after three orgasms.
I know, I know…. you are all thinking "
Exactly how many orgasms is she talking about?!
". In the bottom part of the page I have the statistics to satisfy your curiosity. But please read on - first things first.
Licking = caning
As you may know I love to cane my slave. And to get an excuse to give him a harsh caning every month, I gave him a list of daily tasks to perform (and hopefully to fail!). As time has gone by the list has grown longer and now it looks like this:
1. Morning: wake me up by gently licking my pussy
2. Morning: Hang the silver chain with the key to the Cock Cage around my neck
3. Evening before going to sleep: Politely ask me if I would like a hot water bottle
4. Evening before going to sleep: Politely ask me if I would like to have my pussy licked
5. Evening before going to sleep: Remove the silver chain with the key to the Cock Cage from my neck
6. Anything I have asked my slave to do during the day… and the slave's general behavior.
7. On special occasions; sleep with a large butt plug inside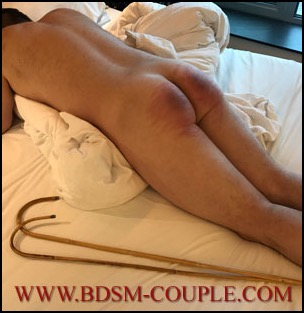 Every mistake earned him 10 wonderful strokes of my favorite cane. But unfortunately he began making so few mistakes that the monthly caning could hardly be called a punishment anymore. To cheer me up my slave then suggested, that every time I granted him the pleasure and privilege of licking my pussy and making me cum, he would earn 10 strokes.
This wonderful idea has solved my problem: I get to cum and I get to cane my slave HARD for making me cum - something he craves and begs for permission to do 24/7.
But after I got my new
hard core
canes, I have adjusted the number of strokes down to 2 per orgasm. I don't want to destroy him completely!
I decide the number of orgasms I need and hence the number of strokes he earns!

To motivate him even more to stop making mistakes and becoming the perfect slave I have started hitting his testicles 5 times for each mistake he makes instead of the 10 cane strokes he used to get. I have added those to the chart as well.
I know you are all very curious about how many orgasms my slave gives me and about my slave's monthly punishment. After being asked a number of times, I have also begun counting the orgasms I get from masturbation.
In the menu on the right you can see the stats from previous years. So here you go; the total number of my orgasms every month
:
-
January
: 62
-
February
: 40 (and 1 mistake … I just decided that 4 mistakes and 20 testicle hits suited me better)
-
March:
47
-
April:
35 (I have been visiting friends for a week - so 35 orgasms are ok. The 30 testicle hits are for a mistake he made while serving Lady Asmondena)
-
May:
48
-
June:
42
-
July:
44
-
August:
39
-
September:
-
October:
-
November
:
-
December:
In the chart you can also see the number of cane strokes and testicle hits, my slave-husband has earned each month.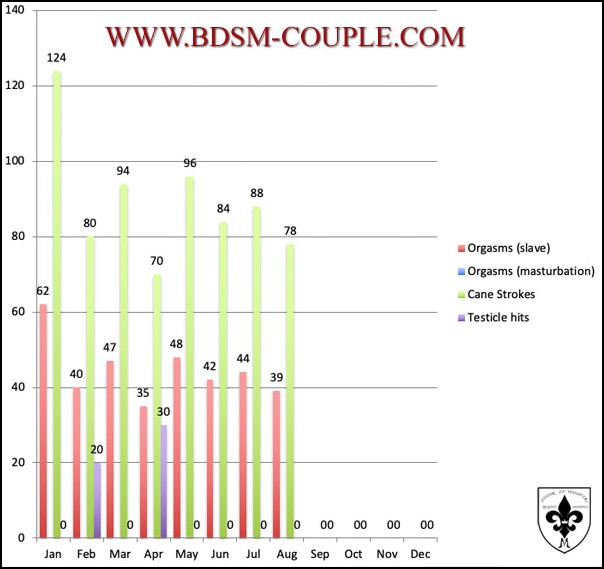 Orgasms (slave) = the number of orgasms slave p. has given me
Orgasms (masturbation) = The number of orgasms I have had when masturbating
Cane strokes = The number of cane strokes slave p. has earned
Testicle hits = The number of hits on the testicles slave p. has earned
Happy Wife = Happy Life!
Miss M.


Don't forget to follow us:



Clips4Sale
LoverFans

Pornhub
Twitter

Tumblr
Instagram