2022 ORGASMS & CANING

This is the score for 2022:


My dear slave-husband made me cum 460 times in 2022. No masturbation at all …. I don't have to!

Below you can see the numbers of my orgasms.

So here you go; the total number of my orgasms every month:
- January: 56
- February: 36
- March: 49
- April: 30 (one week with the Flu and one week of visiting friends without slave p. really shows. Dammit!)
- May: 34
- June: 39
- July: 38 (the 20 testicles hits are because he forgot something very important when he was serving Mistress Cara in England)
- August: 20 (a horrible month because I was ill)
- September: 20 (a horrible month because I was recovering after being ill)
- October: 43
- November: 50 (as you can see I am feeling MUCH better - and the 12 testicle hits was for forgetting to deliver a present to a very special Lady!)
- December: 46

In the chart you can also see the number of cane strokes, my slave has earned each month.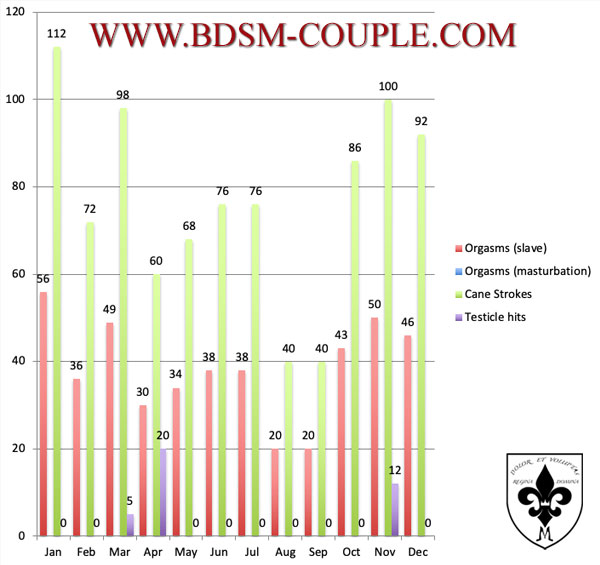 Orgasms (slave) = the number of orgasms slave p. has given me
Orgasms (masturbation) = The number of orgasms I have had when masturbating
Cane strokes = The number of cane strokes slave p. has earned
Testicle hits = The number of hits on the testicles slave p. has earned


Happy Wife = Happy Life!

Miss M.


Don't forget to follow us:


Clips4Sale


LoverFans


Pornhub



Twitter



Tumblr


Instagram