06-05-2019
More Horse's Cock!

A lot of our visitors enjoy watching my slave impale himself - and I must admit that his anal skills are rather impressive!
After the latest videos of me
pegging
him and of him
riding
our HUGE Horse's Cock I got a lot of requests for a video of my slave riding it while facing the camera.
I liked the idea since it would feature his steel Cock Cage, his slave tattoos and his piercings. So I told him to put on a naughty show for me to make a video.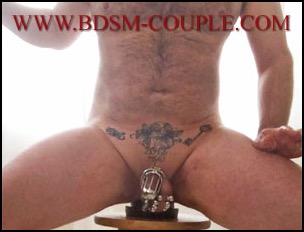 His decorated genitals are truly beautiful! And besides that I love to watch him work our HUGE dildos and stretch his intestines even further!
As you can see in the photo on the right it is a
very long dildo
penetrating my slave's body extremely deep! Going that deep I imaging the Horse's Cock might be shifting some of his internal organs around…
I am not a doctor and I don't know if that is that even possible. But I do know that it disappears completely inside him and that it looks SO HOT!!! I love it when he performs for me and I am so lucky that I own such a wonderful toy willing to stretch to the extreme to please my perverted desires!
Enjoy the video - and please let me know if you have any kinky requests! :-)

When we post blog entries like this we usually get e-mails with questions about the toy and where to buy it. I'll save us all some time and provide the information:
The dildo is called "Centaur", it's size XXL. It comes in different sizes, and you can get your very own at Mrhankeystoys.com. IT'S FIERCE!

Miss M.


Don't forget to follow us:



OnlyFans



Pornhub


Twitter



Tumblr


Instagram