CUSTOM MADE VIDEOS



A lot of people are sending me e-mails suggesting all sorts of kinky ways I should use or torment my slave - and I love it!

But how about getting your VERY OWN CUSTOM MADE VIDEO?!!
- YOU decide what I should do to my slave
- YOU decide the duration of the video


The POSSIBILITIES are literally ENDLESS!
- Pegging
- Fisting
- Urine drinking
- Caning
- Cock & Balls torture
- Facesitting
- Just name
YOUR FANTASY
and I'll make it come true…
And of course I'll dedicate the video to you if you want me to!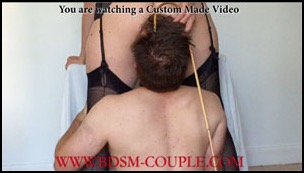 Hang on… Isn't that very expensive?! Nope
.... our site is our naughty hobby and the custom made videos are just a fun way of making sure that our site stays free!
The price is about 10 € per minute (minimum duration is 3 minutes). But it depends on what you want us to do and the time we'll need for preparation prior to shooting.
Examples of videos and prices:
- 5 minutes of me anal fisting my slave (
wrist deep
): 55 €
- 5 minutes of me anal fisting my slave (
elbow deep
): 65 €
- 5 minutes of my slave's solo action (e.g.
extreme anal stretching
): 50 €
- 10 minutes of me pegging my slave (
extreme!
): 130 €
- 10 minutes of me caning my slave (
about 300 strokes
): 100 €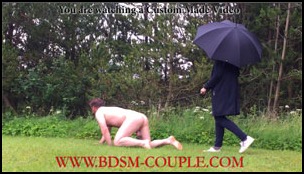 Can I watch a sample?
Sure… our blog is loaded with perverted samples. Knock your self out! :-)
How do I order?
Use the form at the bottom of the page and tell me what YOU want - then I'll tell you the price…. :-)
(
The usual no-goes
: needles, kids, animals, shit, permanent damage)
How do I pay?
Once we have agreed upon content and price I'll send you a link - and all you have to do is follow the instructions to pay by credit card or Paypal.
When will I get my video?
2-3 weeks after receiving payment I'll send you a download link. Very simple and easy!
Who owns the rights to the video?
I do. I an choose to sell it on Pornhub or any other site or publish it on my own site if I want to. If I mention your name in the video I'll delete that part before publishing. If you don't want the video to be published anywhere else please let me know - for an additional charge no one else will watch your video.
Miss M.


Testimonials
I'm always happy to receive feedback from those who buy my Custom Made Videos. Below you can see a few examples :-)
Mr. F.: "
Nice clip! You look so good! I love it!
❤️
"
Mo: "
I'm really impressed!! I love how easy you got both your fists inside your slave's ass. And I loved how he struggled to push them out! Thank you!
"
Steven: "
Great job with the video! I love it. And the carrot at the end... So creative!
"
Q: "
WOW!!!
"
Gail & Thomas: "
We both love how you stretched your slave's ass despite his protests! It was SO HOT! Thank you!
"
Gotia: "
Thanks for the clip, it was awesome :)
"
Tom: "
Wow! Thank you! I really doubted it when you wrote that your could force your closed fist inside your slave's ass. But you did it over and over again for 10 minutes! His ass must be absolutely ruined!!
"
Mr. X-it.: "
Thank you Miss M. The video was very high quality and shot from two angles just as I asked for. GREAT!
"
Cynthia: "
Oh my! I love it! HARD caning with no warm up just as I wanted. Thank you!!
"
Kalle: "
Thank you for a wonderful video! It was worth every Euro to watch you crush his balls and keep tightening the nuts ignoring his screams! I have watched it 10 times now and I am so impressed!
"
Richard: "
Wonderful video! I hope your slave didn't catch a cold from being naked in the rain for so long? :-D
"
GayKing: "
Thank you so much! I asked for a deep pegging with the black horse cock dildo and that was precisely what I got. I'll be back for more videos. Thumbs up!
"
Pjotr: "
Perfect! Thank you, thank you, thank you
"
Andrea: "
THANK YOU!"


John: "
Thank you so much for accomodating my rather special request. I love it!"

Don't forget to follow us:

Pornhub
Twitter

Tumblr

Instagram