PERMANENT MALE CHASTITY


STATUS: After 134 days of denial I allowed my slave a few days of fucking and cumming inside me - because I NEEDED IT - and then I locked his cock back up!

He has now been denied orgasm since 12. May 2019.

Male chastity started as an experiment in the fall of 2017 and is slowly turning into a permanent lifestyle adding a whole new dimension to our sex life.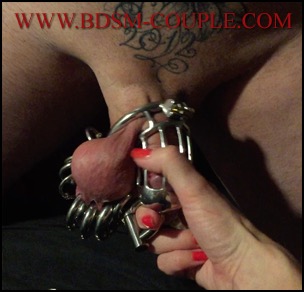 The idea is rather simple. My slave must focus ONLY on MY wellbeing and pleasure every second of the day and NEVER forget this.
And how are you going to make that happen you may ask?
Well…. first of all he needs to be constantly reminded that he is my property no matter where he is and what he is doing. And secondly he must be kept in a constant state of sexual arousal knowing that I am his only possible source of sexual pleasure.
This is done with the help of the wonderful device in the picture above. By wearing the heavy steel cockcage he is constantly reminded of his status as my slave and since I hold the key he is not able to touch his penis or have an orgasm without my permission. We only have one rule:
1. I DECIDE for how long my slave wears the chastity cage and for how long he is denied orgasm.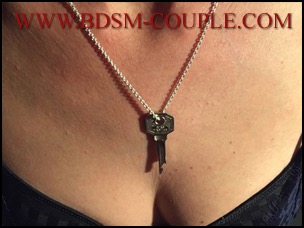 The cockcage is secured with a shackle through his Prince Albert piercing eliminating any hope of escape my slave might have.
My slave has given me a beautiful silver key as a symbol of my absolute power and authority. I wear it everyday for everyone to see to remind my slave that he is my property.
For how long will my slave be in chastity? For weeks, months or years? I don't know yet… but it´s
MY
decision! Since I love to play with his cock and since his foreskin starts swelling if he wears the cockcage 24/7 he wears it from the moment he rises in the morning till he goes to bed at night. When he is in bed his cock is mine to play with.
I looove to masturbate him to the edge of orgasm …. crush his balls…. masturbate his cock some more…. crush his balls ….. on and on NOT allowing him to cum and enjoying how desperate and horny he becomes. The record for my slave is 142 days without orgasm - but I am expecting to keep pushing the limit. Because I can….
We are still discovering new aspects of this exciting lifestyle so stay tuned and read about our experiences as I have my sadistic fun.
Miss M.

Don't forget to follow us:

Pornhub
Twitter
Tumblr
Instagram