MY SLAVE'S PIERCINGS


I get a lot of questions about my slave's piercings so I have decided to show you in detail how his genitals are decorated.
This is how my slave's private parts look like right now: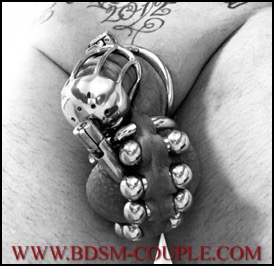 My slave now has a total of 12 piercings.
10 in his scrotum and 2 in his cock.
Of course my slave hasn't always had a lot of piercings and over time the number (and
size
!) of his jewelry has increased steadily. If you scroll down and keep your eyes to the right you can take a stroll down Memory Lane and see how the decoration of his private parts has evolved over time.
There is
a lot
of hard, cold steel around and through the most sensitive part of my slave's body. I absolutely love it! - and I love to watch him get pierced….
The feeling I get when I allow someone else to push a thick needle through his genitals and attach yet another ring can best be described as intoxicating and arousing!
In the photos at the bottom of the page you can see the
steel cock cage
my slave has been wearing since the fall of 2017. A padlock through his Prinse Albert piercing makes absolutely sure it's impossible for him to escape and he can't achieve an erection or cum -
I hold the key
!
In February 2017
I gave my slave 5 (FIVE!) new piercings in his scrotum
. In March 2019 I added another
two piercings to his scrotum
- it's the small barbells in the picture number two from the bottom.
In the last picture you can see the latest addition of steel to his genitals from May 2019. It's the HEAVY ring going around his scrotum and through two of his piercings - stretching his scrotum 24/7.
Am I done decorating him? No…. not yet!
Miss M.