12–05-2018
Payment time!

As you might have read, I have a
little black book I use to keep track of my slaves performance and mistakes
. I have had the book for a month, and today it was time to settle the score for april.
Eight mistakes in april earned my slave 80 strokes with my cane.
Since the weather was so fine I decided to cane my slave outside the cabin he rented for us - I told him to be silent and so he was. He is such a good boy (but don't tell him I said so!).
Since it was a punishment, there was no warm up to get his endorphins flowing and I made sure to strike him in one of the places he really hates being caned: the sides of his bum!
The result was pure pain - just as I wanted it to be to teach him a valuable lesson.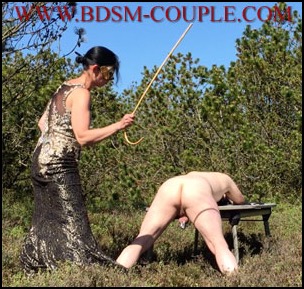 But my slave wasn't the only ont who learned someting. To be honest I was a bit disappointed that it was no more than 80 strokes. I have been to soft and the tasks I told my slave to do was to few and to easy. This will change. Now the game is a foot and he'll be getting more tasks and each mistake will cost 20 strokes instead of the 10 I started out with.
After the caning I rewarded my slave for not screaming; I allowed him to lick my pussy and make me cum. You see…. I can be really nice… if I want to!

And it was a good thing he took the beating without making any noice. In the video you can see me turn my head just before I cum. The reason is that I heard voices from a group of hikers passing by about 50 yards from us!!! Oh dear….

Enjoy the video and watch the full version on my LoverFans :-)


Miss M.


Don't forget to follow us:


Clips4Sale


LoverFans


Pornhub



Twitter


Tumblr


Instagram