11–11-2020
Warm up!

Before engaging in heavy duty anal play with HUGE toys it's always clever to do a good warm up. And why not make it a fun and challenging warm up?
As you may know slave p. has amazing anal skills. So his warm up is a little more extreme than the average warm up.
He uses a very long and fat and soft dildo, and I like to push him a little when he is stretching.
So once he had inserted it I told him to lick my pussy …. and keep the dildo inside his ass until he had made me cum.
As you can see in the video he did very well. And while he was busy using his tongue and keeping the toy inside I got even more horny by thinking about how stretched he is.
Not only his ass hole but his entire inside. It's extreme!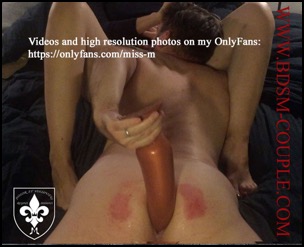 When you watch the video and see how relaxed he is when he is licking - and then watch the MONSTER he pulls out after my orgasm I bet you agree.
I have been thinking about it for a while since these dildos are very expensive, but I believe it's almost time to move up a size.
I'll get a bigger one for him once he's able to push the base of this baby inside as well and make it vanish completely.
I would love to watch him do that - and I know that the promise of an even bigger one will motivate him…. he's so naughty!
Enjoy the short video! As usual all high resolution photos and the full video is on my
OnlyFans
.

Miss M.

Don't forget to follow us:


OnlyFans



Pornhub



Twitter



Tumblr


Instagram