25-11-2020
My Zipper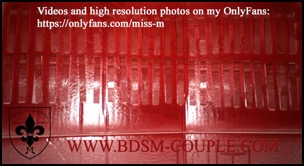 Oh my! I must say that slave p. is VERY creative! A few days back I went to fetch something in the garden shed, and this is what I saw. At first I couldn't figure out what it was, and then I realized that it was painted clothespins.
And what do you use many clothespins for? A ZIPPER!!!!!
At least that was my guess, and I didn't say a word to slave p. about what what I had seen in the shed. I just waited … and waited…. even though it's not easy for me to be patient. Especially when it comes to presents FOR ME!
And finally after what felt like waiting forever slave p. told me that he had a little surprise for me. I remembered to act as if I didn't have the slightest clue about what it was. And much to my delight it was exactly what I had hoped for!
A while back slave p. had shown me some videos of Zippers being ripped of the bodies of slaves…. and I loved it. The very simple concept of clothespins being tied together with a piece of string and the wonderful effect fascinated me!
This Zipper was beautiful: Black and red. Wow!
Of course I had to try my new toy as soon as possible. And in the middle of a very harsh caning I tore the Zipper from slave p.'s scrotum. The painted clothespins had a tight grip on his delicate skin - and he made the most wonderful noice. I love my new toy, and I'm going to have so much fun!!!
Enjoy the short video of the Zipper being torn off in slow motion! As usual all high resolution photos and the full video is on my
OnlyFans
.
Miss M.

Don't forget to follow us:



OnlyFans

Pornhub

Twitter
Tumblr
Instagram