22-08-2020
Fisting & dildos

Our anal games seem to get more rough as the years go by. A kinky gentleman on my
LoverFans
asked me, if I would fist slave p. while fucking him with a dildo.
I love it when people give me kinky ideas, and I had never done that before!!! And the best part is that I don't have to as slave p. … I can just do it, if I want to! And I do want to!!!
His ass is now stretched so much, that I don't really have to warm him up, before I fist him. I can just put my hand inside. It's so easy, and I love to feel the warm inside of his body. And when I have one hand inside…. I love to put the other hand inside as well. It takes some more work, but if I push really hard, I get both hands inside.
If it hurts? No… I feels really tight, but it doesn't hurt. Oh, you meant slave p.! Well…. sometimes it hurts his ass when I force both my hands inside him. But that's part of being my property, that I have the right to do it. And after having both my hands inside, it was so easy to insert the dildo along side one hand.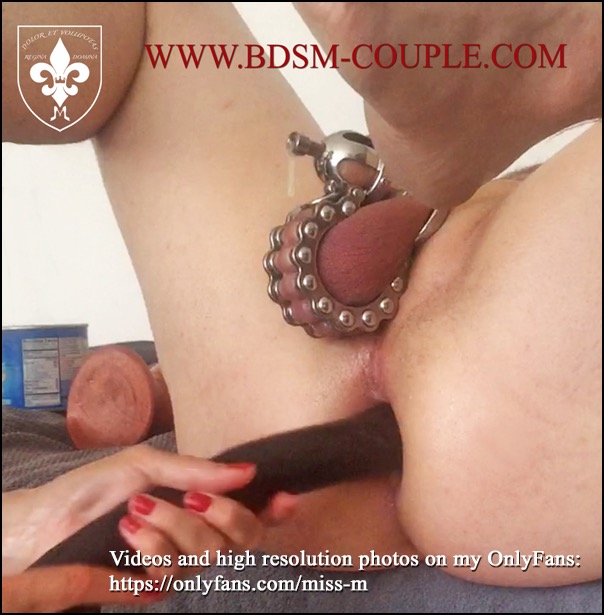 It felt amazing to slide the dildo all the way inside him and feel it slide against my arm and hand inside. And I love watching the cum ooze from the Cock Cage when I hit his prostate - have a look at the photo!

The dildo is 43 cm and it all disappeared with such ease…. and I finished the fun game with pushing she slink all the way inside him (49 cm) in just 7 seconds. Wow!

His ass is so stretched and loose, and I intend to keep STRETCHING IT!!!

Enjoy the short video! As usual all high resolution photos and the full video is on my LoverFans.


Miss M.

Don't forget to follow us:



Clips4Sale


LoverFans



Pornhub



Twitter


Tumblr



Instagram