06-08-2020
Anal Chili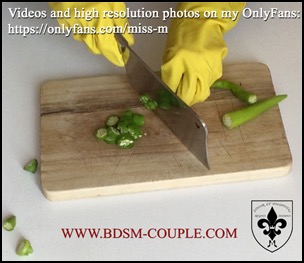 Chili is wonderful, but for some strange reason I had only used it in cooking and only
once before
in BDSM…. until now! And I can tell you that it worked so well!
I made sure to chop it very fine and then the fun began! I inserted a hollow butt plug inside slave p. and then it was easy to fill his ass with chili before removing the butt plug and leaving alle the chili inside. And it was not just any chili. This chili is HOT - that's why I wear gloves while chopping it.
At first nothing much happened, and I began crushing his testicles. I must admit that I was a little disappointed, but then it begun…. slave p. began to move and moan a little.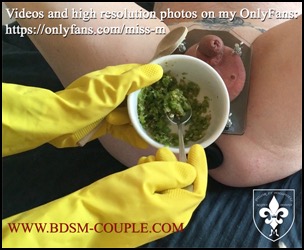 Not much but enough to catch my attention, and after a few minutes it was very clear that his ass was on fire!
Usually his cock gets hard when I crush his testicles. But this time nothing happened! And caressing his cock with my chili stained gloves didn't help at all!
The poor boy began to sweat and when I was done with his testicled he rushed off to the bathroom to flush out the chili.
He was gone for about 30 minutes before he came back and his ass was not on fire anymore…. I LOVE CHILI!!!!!!! Next time I think I'll fist him and get the chili really deep inside him!

Enjoy the short video! As usual all high resolution photos and the full video is on my LoverFans.


Miss M.

Don't forget to follow us:


Clips4Sale



LoverFans


Pornhub



Twitter


Tumblr


Instagram