27–04-2020
My Foot!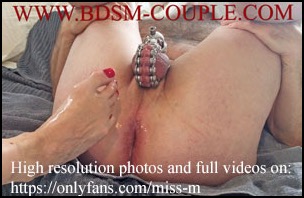 I love doing this - and I can do it anytime I want to. It really illustrates the fact that slave p. is my slave.

As you can see in the photos, my foot is not small. It's a EU Size 40, and on top of that my instep is rather high. This means that I can't get my foot all the way inside. The final centimeters seems impossible to overcome!

Inside is plenty of space. I can feel that. And it's not his sphincter that causes the problems. I can stretch his soft tissue…. but slave p.'s pelvic bones refuses to give in. I pushed as hard as I could and my foot began to hurt. I twisted and turned my foot. But nothing worked. I have seen videos of women inserting their entire foot - and I really want to do it! But I have noticed that they all seem to have rather small feet. I almost feel like they are cheating in some way - but that's just me being jealous.


Never mind that. I enjoyed the noises slave p. made, when I really pushed. And if my foot hurt, imagine what his butt must have felt like. You like that don't you? Well…. So do I!
And look at his poor hole when I finally pulled out. It's a mess…. so stretched .... so loose…. so open and gaping! I did that to him. Wow!!
Please let me know, if you have any good advice on getting my foot all the way inside slave p.!
Enjoy the sneak peek - the full video and all the high resolution pics are on my
LoverFans
:
Miss M.

Don't forget to follow us:



Clips4Sale
LoverFans
Pornhub

Twitter

Tumblr
Instagram