07–04-2020
Still no orgasms…

… for slave p. Obviously - HA! I get all the orgasms I want. And if you don't believe me, just have a look at the impressive stats right here! How about that?!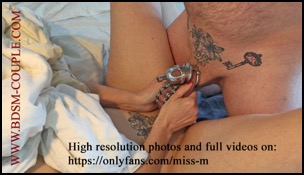 After poor slave p. was allowed to cum on New Years Eve, I locked up his cock on 1. January.
It has been locked ever since. I like that. And I like it even more after it got locked on Valentines Day in the most
extreme Cock Cage
ever built!
I looooove to tease him. To caress his locked cock and balls…. To kiss him… To tell him to lick my pussy…
I love to almost make him cum and then watch the cum slowly dripping from the Cock Cage.
Inside the narrow tube his cock is twitching and struggling to get hard - which is of course impossible. Steel is such a wonderful material for preventing unwanted erections!
The amazing thing is, that the more I tease him and the longer I keep him locked and denied, the more he wants to pamper me and satisfy my needs.
And the more obedient he becomes.
I can't help but wondering what would happen if more women knew this simple secret? Well…. I'll keep spreading the word …. and while I do that you can watch this little video of me teasing slave p.!
Enjoy - the full video is of course available on my
LoverFans
:-)
Miss M.

Don't forget to follow us:


Clips4Sale
LoverFans

Pornhub

Twitter

Tumblr
Instagram