31–03-2020
Being a slave - IRL

What's it like being a slave? For real? Well…. I can tell you for sure, that it's not what 99% of you guys are fantasizing about.
Yes IT IS about a lot of sex. It's about licking pussy … very often. It's about getting fisted, caned and tied up. It's about drinking urine and having my balls crushed and beaten.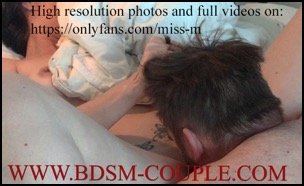 It's about all the stuff that you see in the porn videos - but it's also about doing it, when you are not in the mood: At 3 AM when Miss M. can't sleep and wants to have fun.
It's about being locked and denied for months at a time…. also when all I want to do is to fuck her….
It's about getting up early in the morning to make coffee for Miss M. even though I have only slept for 4 hours.
It's about reading the paper out loud for her even though I have a serious hang over from the party the night before.
It's about giving Miss M. a massage or do her nails or perform with huge dildos when I get home from work… even though I am tired and really just want to take a nap or have a beer.
It's bout doing the dishes… and all the heavy work in the garden. It's about being told what to wear and not to wear when we are going out….
It's about all those things.
But most of all it's about doing all those things for Miss M. with pleasure. It's about putting her needs above my own because I love her and want to be her slave… and pamper her in every way possible…..
slave p.

Don't forget to follow us:



OnlyFans

Pornhub
Twitter
Tumblr

Instagram