08–03-2020
Decorating slave p.'s body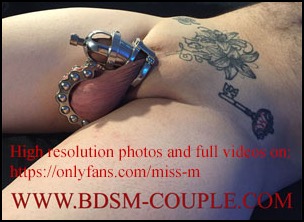 As you have probably noticed, slave p's genitals are extremely pierced and he is now wearing a somewhat extreme custom made and made to measure Cock Cage. The Cock Cage is made of surgical steel incorporating slave p.'s piercings and it's very heavy.
The Cock Cage covers most of his cock and balls to ensure that he is unable to masturbate or touch himself in any way giving him erotic pleasure.

It also prevents him from achieving a full erection. Just the way it should be. It looks beautiful - and in my opinion his cock and balls are now as close to perfection as possible! You can enjoy his journey from "normal" to extreme pierced slave right here.

This means that I am done decorating slave p.'s genitals, but what about the rest of his body you may ask. Yes indeed…. what about the rest of his body?!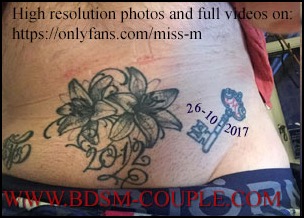 This is to be my next project. I have marked him with a few tattoos: Flowers symbolizing the two of us and a key symbolizing his status as my locked slave…
But I want to add more. The first step will be adding the date I locked him in chastity for the very first time.
Wouldn't that look nice?
Unfortunately we are extremely busy at the moment, but I hope to get it done sometime in April.
I'll keep you posted….
Miss M.


Don't forget to follow us:


OnlyFans
Pornhub
Twitter

Tumblr

Instagram