25–05-2022
Relaxing in bed

My dear slave-husband does all the hard and dirty work in the garden. I do the things I enjoy doing like nursing my beautiful flowers. Our garden is big and we have a lot of tall hedges, so of course he does the trimming.

I wanted the garden to look beautiful for when my mother was coming over for coffee. So I told my slave-husband that he would not have to join us for coffee in the garden, if he managed to trim ALL the hedges, before she arrived.

So he got out of bed very early. He made coffee and served it to me in bed, before he went out in the garden and worked like a dog all day trimming the hedges. Much to my surprise he actually managed to get it all done. It's amazing what the proper motivation can do!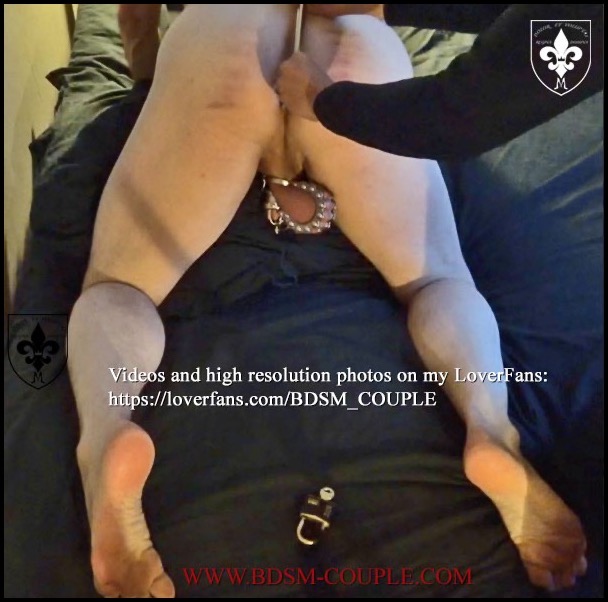 Before he went for a quick shower after working so hard, I asked him what he would like to do instead of drinking coffee with me and his mother in law, and he asked if he could relax in bed instead. I said yes … of course … and while he was in the shower I prepared our bedroom for his well deserved rest. I got the anal hook and chain and rope and padlocks ready. And then I sat in a chair behind the door waiting for him……


He saw the metal gear hanging from the sealing and heard my voice before he saw me. I was very pleased that he just answered "Yes Miss M." when I told him to get on the bed. No protesting or questions. And then I secured him using the anal hook and his Cock Cage. The anal hook pulling him forward and the Cock Cage pulling him backwards … both locked with padlocks to make sure he could not go anywhere. He almost couldn't move and I could see how he struggled in vane to get in a comfy position.

After two hours I set him free and asked if he wouldn't rather like to join me and his mother in law in the garden for coffee next time. And he answered "Yes please Mistress"…..

Enjoy the photos and the short video - the full video is of course available on my Clips4sale & LoverFans :-)



Miss M.


Don't forget to follow us:



Clips4Sale


LoverFans



Pornhub



Twitter


Tumblr



Instagram