25–04-2022
Mistress Baton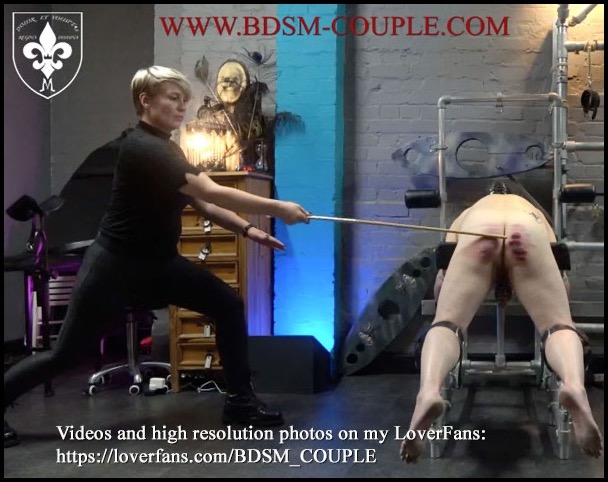 When I gave my first interview to Darkside Magazine years ago Mistress Baton was on the cover of the magazine. She looked so strict and beautiful, and both my slave-husband and I read her interview. Since then I have been following her on Twitter and enjoyed watching the caning clips she posts. She is a true expert. And she can hit so much harder than me – I am nowhere near being as strong as her.

A while back when I had broken two of my canes on my slave-husband's bottom I reached out to her for advice about where to buy top quality canes and what to buy. She was very sweet and helpful and the canes she recommended for me was amazing. Not too long or too heavy; just perfect for me to handle.


Since then I had been thinking about if Mistress Baton would be interested in caning my slave-husband to test his endurance. The problem was that she lives in South Africa; and such a journey for a caning would not be realistic. But when I asked her if she ever visits Europe she told me, that she would be touring the UK in April. That was wonderful news!

And it was even more wonderful that she would love to have my slave-husband sent for a caning. Wow! The caning legend Mistress Baton caning MY slave-husband!!

We emailed back and forth about the severity and agreed that she would evaluate how much he could handle on the day. We agreed on the 21st of April in London. And oh boy ….. I couldn't wait to send him.


I know my slave-husband. He is tough. He is competitive. And he wants to make me proud. So when I told him, that I hoped he could handle a judicial caning from Mistress Baton, I knew he would do his very best. And I was not disappointed. He did so well and even exceeded my highest expectations!

I will let he photos and the short video speak for itself. I am so proud of my slave-husband and the pain he endured to satisfy Mistress Baton and make me so extremely proud! Just look at how he handles the full force strikes delivered on his already bloody bottom. Amazing! He is really something. And now I will have to wait for 6 weeks or more before I can cane him myself - safety first!

Enjoy the photos and the short video - the full video is of course available on my Clips4sale & LoverFans :-)



Miss M.


Don't forget to follow us:



Clips4Sale


LoverFans



Pornhub



Twitter



Tumblr


Instagram