08-02-2022
Mistress Kym
True 100% Female Led Relationships are very rare. I have been into this for many years now, and I had only come across two other couples living like this. Until I recently came across Mistress Kym bringing the number up to three! Mistress Kym is living with her real life slave, and she has a wonderful website where she tells all about it! And just like my own site it's about her real life …. no fiction….!


But of course she didn't become a Mistress and slave owner over night. Just like my Female Led Relationship her's has been a life changing journey that is still ongoing. We both started out very carefully and has ended up being the undisputed Queen of Household.

There are many similarities but there are also many interesting differences which only goes to show, that there is not just one way to live in a Female Led Relationship. We all have to find our own path into FemDom and find the way to practice FemDom that makes us happy!

Like Mistress Kym I have always been dominant. But when I began exploring BDSM as a sub to learn, she went straight ahead into FemDom. In her first relationship her boyfriend wasn't into it, so she broke up. And then she found a male with the potential to be molded into her real life slave.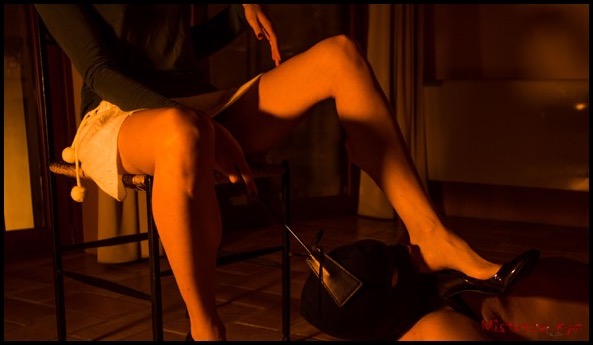 Little by little …. with tiny steps ….. she began using sex and attention to manipulate him into behaving the way she wanted him to. When it came to sex focus slowly changed towards her satisfaction and desires. And licking her pussy became one of his daily tasks. I can really relate to that! She began to feminize him and bought a vibrator to show him that she could do without him if she wanted to.

Day by day she took more power making him depend more and more on her; financially, emotionally, sexually … until every decision was hers to make….. just like in my marriage.

When I read about her journey into 100% FemDom I can recognize so many of the things she describes. She has been brainwashing her man. Just like I have. Using his desire to control his behavior and his actions. Consequently changing his way of thinking about himself and her. Turning him into a true believer of HER Supremacy.


There are so many books and websites about how to live in a Female Led Relationship …. about how to turn your husband into a slave. And 99.99% of it absolute rubbish. It's about the male fantasy of a woman dominating the way HE wants to be dominated WHEN he wants to be dominated. I's not about real life. It's not about all the hard work that needs to be done to turn a male into a real life slave.

Mistress Kyms website is different. When I read what she has to say, I can see that she has done so many of the same things I did to my husband to break him and rebuild him as a real life slave. She also locked his cock in a chastity devise 24/7 and started wearing the key for all to see; permanently denying him any hope of sexual release. And she has also marked her slave's body as her personal property. I know that it works!


As I stated in the beginning Mistress Kym's journey into FemDom has been very different from mine, and we have chosen to use our unlimited power in very different ways. Of course we have. This only reflects the fact that we are different persons with different desires and ideas of how we want to use the man, that has now been transformed into a real life slave.

But the way we have managed to gain unlimited power in our relationship is very identical. It was fascinating to read about her methods and realize, that the way we had done it was almost identical. To women living thousands of kilometers apart who had never heard about each other had "invented" the same method.

I have only told you a fraction of how Mistress Kym manages her Female Led Relationship – and it is truly inspiring – so if you are interested in real life Femdom you should pay her a visit!


Miss M.


Don't forget to follow us:


Clips4Sale


LoverFans


Pornhub



Twitter



Tumblr



Instagram