09-04-2021
Spit roast

I use my slave-husband for making Custom Made Videos, and I love it! The wonderful people wanting the videos have so many great (and kinky!) ideas that I would never have thought of myself, and it's a huge inspiration to me!


I don't know why spit roasting him it had never occurred to me. A huge and fat dildo on my favourite Fucking Machine pounding his as, and a dildo on my harness going down his throat. Wow!!! What a rush!

I like to push him…… and I do. I know that he tries hard to endure the things I do to him, and I know it's a sign of love and devotion. And that makes it so hot! I'm not doing this to please him or fulfill a fantasy of his. I'm doing this because it turns ME on.

This dildo in his ass is the biggest and fattest one the machine can handle. And even though he can take it, it's always a challenge, when I use the machine and turn up the pace. I goes REALLY deep inside him, and he struggles not to push back. The machine only hesitates for a brief moment if he does, and then it forces the dildo back inside him….. which is not a pleasant feeling! I can tell by the noise he makes when it happens.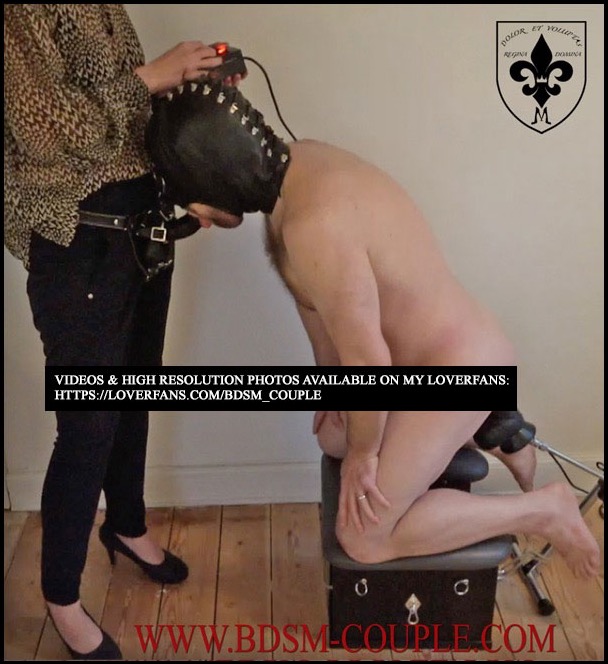 And on top of that he now also have to control his gagging reflex; afterwards he told me, he was so happy it wasn't a 20 minutes video!!! He did so well, and I was happy with his performance. I enjoy his effort to please my kinky desires even though some of it is rather unpleasant for him, and I enjoy allowing him to make me cum afterwards…. Mmmmm ….. GOOD BOY!

I usually get emails about where to buy the stuff I use when I play, so I'll hurry up and tell you. The Worshipping Box he is kneeling on is made by Aphotic Industries (update: unfortunately they are not in business anymore) and they have so many great products (read my review right here). The Fucking Machine is from sexmachines.co.uk and is also INCREDIBLE!

The full video is of course as always available on my LoverFans :-)


Miss M.


Don't forget to follow us:



Clips4Sale


LoverFans


Pornhub


Twitter


Tumblr



Instagram