30-03-2021
Great improvement

Not so long ago I wrote that I had changed the method of punishing slave p. for his mistakes.

I used to use a board with nails for spanking his bottom, but even though it always became a pretty bloody mess, he didn't seem to learn anything from it. I figured that he didn't fear that punishment, so I started doing something else: Beating his testicles!

I'm very pleased to inform you that it has worked so well!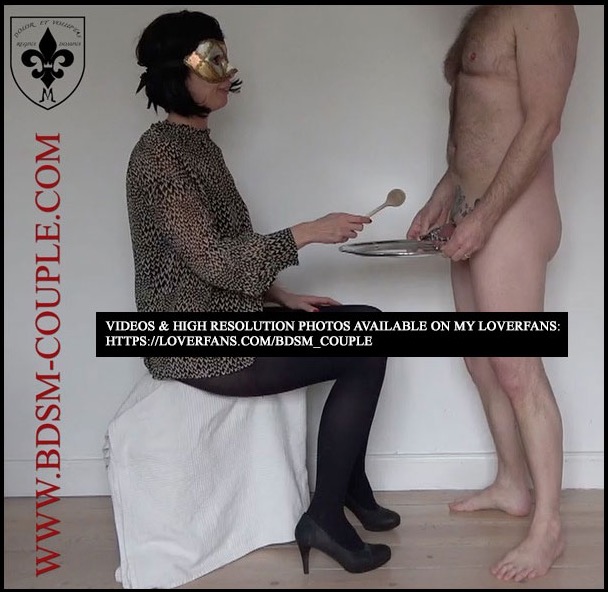 The first painful punishment really did the trick! And just to make sure that he got the message, I did another session with his testicles on a silver plate. Mmmmm ….. his Crown Jewels presented for me on a silver plate was a wonderful sight!

In March I have only recorded 1 (ONE!) mistake so far. That's a huge improvement from February's 5 mistakes. And the reason is that he fears having his testicles beaten with a wooden spoon.


It's all about the balance between the carrot and the stick. I had tried to make him clean up his act by telling him how proud I would be if he made fewer mistakes. It did improve his performance but nok enough. The nice approach had to be helped a little along by putting some fear into him. Not a lot - just enough to make him try harder.

When we settle the score for March, I will choose one testicle and hit it EXTREMELY HARD!!! I can't wait to find out if this will make April the first month in 2021 without a single mistake……

Enjoy the short video of me being nice to slave p. ….. he'll REALLY need this when I'm done with March's TESTICLE BEATING!

The full video is of course as always available on my LoverFans :-)


Miss M.


Don't forget to follow us:


Clips4Sale



LoverFans


Pornhub


Twitter



Tumblr


Instagram