SEX MACHINE REVIEWS


Lately I have developed a taste for SEX MACHINES - but it's a jungle and it's so easy to accidentally buy crap!! I had to ask a lot of people with experience what to buy so I didn't waste my money. And I would like to share some info about my favorite machines with you. At the moment I have three fucking machines …..and a spanking machine….. so sit back and enjoy getting the info you need to choose the one that's right for YOU!

Click the links to have a closer look:
BLUE BALLS XL 2.0
APP SEXMACHINE
BASIC AUTOMATIC SEX MACHINE
SPANKING MACHINE

Miss M.





BLUE BALLS XL 2.0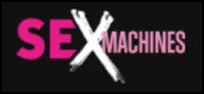 This is a machine from
sexmachines.co.uk
. I didn't know existed before a friend recommended it. She was surprised that I hadn't heard of it, and so was I once I saw it. It's beautiful - but first things first…..
Getting started
First step is to pick up the parcel at the Post Office - and you must be prepared for a heavy load!
I was glad I had brought my slave along for carrying the machine to the car.
He did very well and I enjoyed watching him use his muscles!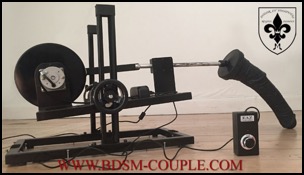 Second step is putting the bits and pieces together, and in my experience this can be a rather challenging / frustrating task.
But in this case it went surprisingly smooth.
It was very easy to figure out how to assemble the frame and get the extension rod in place - and after plugging in the power supply and the control unit we were ready to go.
No problems and straight ahead for the naughty fun!
Take it for a ride
Inside the box were some toys ready for use: an anal toy, a dildo and a male masturbator.
I'll be completely honest and tell you that we haven't tried any of those, since I bought the machine for using HUGE dildos on my slave. But the toys included all felt very nice and soft.
Inside the box was also a Vacuum-Lock-Attachment which is very important: all our dildos are made for the Vacuum-Lock-System and without this little piece of metal we couldn't have any fun!
The control is fool proof. All you have to do is turn the dial to increase or decrease the speed of the machine.
It's as simple as that. We tried several of our own big dildos and everything went smooth. The machine handled our heavy duty gear very well.
I told you that the machine is heavy, and once it's in the bedroom that's a very good thing: it makes the machine stay in place even at maximum speed.
Only when we went for XXXXL dildos we had to secure the machine to the floor to prevent it from moving around.
Adjusting the elevation and angle of the machine is very easy - just loosen the handles, make the desired adjustments and tighten the handles. No matter how we wanted to use the machine we were able to adjust the elevation or angle just as we wanted it.
Only when we used a rather heavy XXXXL dildo (4,5 kg) we experienced some difficulties keeping the right angle. But a little piece of string did the trick.
Overall impression and value for money
Appearance is very important to me, and I really like the design of the machine. It's so simple and beautiful and yet it looks so brutal and powerful - which it is. If it wasn't for the kids I would love to have it on display in the bedroom! And it's not just looks; it actually works. When you add the fact that it was so easy to assemble the machine, you have a winner!
In my opinion it's worth every penny, and I have SO MANY plans for my new favourite toy!
Enjoy the short video below and get your very own Premium Fucking Machine
RIGHT HERE
!

——————————————————————————————————————

APP SEXMACHINE
Allow me to present a wonderful machine I had wanted for years and now FINALLY have bought! It's the "
APP SEXMACHINE
"!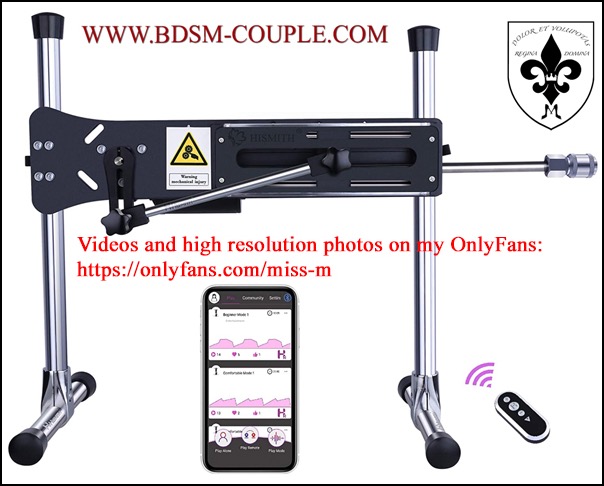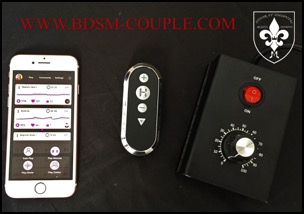 This Fucking Machine holds so many opportunities and there are three ways of controlling it.
1: A traditional control connected to the machine with a wire.
2: A small wireless remote controll.
3: And finally my favourite: The app!
Both controls are very easy to use, but the app is so much fun! It has different pre-made programs and a community for connecting with other sex machine users. And it's even possible to grant control over the machine to another person no matter where in the world that person is. Amazing!!!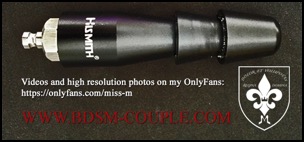 Hismith has loads of dildos made especially for the Fucking Machine and they include one when you buy the machine.
But despair not - it is also possible to buy an adaptor for the vaculoc-system!
The Fucking Machine is very easy to assemble and very easy to use. It comes in a special bag making it easy to transport and to store it discretely under the bed. We have kids so this is important to us! And it is possible to adjust elevation and angle. Perfect!
And now to the thing you have all been waiting for. Is it any good?! The answer is
YES
!
We love HUGE and HEAVY dildos so my biggest concern was if the machine was strong enough to handle our kind of action. And to my great relief it passed with flying colours. It would have been a terrible shame to buy this high end sex toy only to find out that it was no good…. b
ut it is indeed worth every penny!!
Enjoy the short video below and get your very own APP Sexmachine
right here
!

——————————————————————————————————————



BASIC AUTOMATIC SEXMACHINE
As you may have guessed I love the Hismith Premium Sex Machine, but for a long time I have wanted a smaller one for bringing along when we travel.
I have finally found it!!!
The control is very easy to use - all you have to do is turn it on and turn the pace up or down.
Easy peacy…. Nothing can possibly go wrong!
The weight is only 1.8 kg (!!) and when it's packed and ready to go it fits in a bag small enough to carry on board a plane. It's perfect for holidays and some hand held action!!!!!
Enjoy the short video below and get your very own Fucking Machine
right here
!
——————————————————————————————————————



SPANKING MACHINE
Have you ever heard of the Spanking Machine from
sexmachines.co.uk
? I hadn't and when I did hear of it, I was skeptical to say the least.
But since it came strongly recommended I took the chance and bought it - and I don't regret it for one second!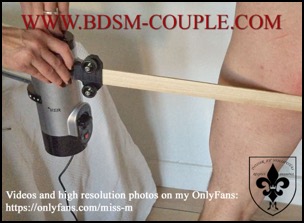 Inside the box were a few bits and pieces and a manual. My husband didn't need to look in the manual to assemble the bits and pieces into a mean machine, and I believe most people will be able to do the same.
If it seems difficult someone told me there's a video available for download showing you how to do it in a few easy steps.
There's no cane included, and I wanted to try something else than my usual cane. I found a stirring stick in our local paint store. It's free and it turned out to be absolutely perfect!!! The sound it makes at impact is wonderful!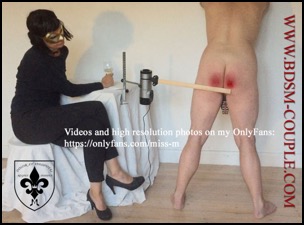 There are two choices to make before starting the machine:
- How much force you want ( of course I chose FULL-FORCE: 10)
- The duration you want (of course I chose MAX TIME: 5 minutes).
After that it's really just to push the button and let the machine do all the work. Marvelous!!!!
Oh! I almost forgot…. you'll have to
really secure
the machine if you choose the full-force-setting, because it does hit FULL FORCE and really wants to move around!!! In the video you can see my little table shaking!
And what do I think of it? I LOVE IT! It doesn't look like much, but it gets the work done. After enduring 2 rounds of 5 minutes at full-force my husband's bottom was bleeding. Oh dear…..
It's perfect for the LAZY DOMME who enjoys relaxing with a glass of wine (me!)!
Enjoy the short video below and get your very own Spanking Machine
right here
!
Don't forget to follow us:


OnlyFans
Pornhub

Twitter
Tumblr
Instagram