14-07-2018
Extreme ass stretching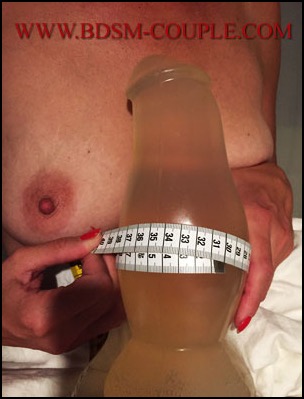 Summer holiday means time for alle the fun stuff, and this includes stretching. About six months ago I bought a new toy for stretching my ass, and its HUGE (circumference: 30 cm, insertable length: 22 cm). The goal is to get able to accommodate Miss M.'s foot in my ass, but so far all my effort with the dildo have been futile. No matter how hard I tried, I just couldn't get past the widest part of the dildo. That is until today!
It took a lot of warming up with other dildos, before I felt ready for the big one. And when I noticed that I rather quickly was able to get it just a little further inside than the last time I tried, I made a decision: No stopping until the whole thing is buried inside me. No matter what happens… And I did it!!!
I had to use my entire weight to get past the widest of the dildo part and force it all the way inside. I actually lifted my feet from the floor resting all of my 80 kg on the dildo.
After about one minute of struggling and trying to suppress the reflexes trying to push it back out, I could feel my sphincter beginning to give in.
And very slowly I got impaled by the dildo. It felt like my ass was being torn apart - which it probably was - and if I hadn't been so horny the pain would have been unbearable.
When the widest part of the dildo was inside me the rest of it followed in a jiffy! It took me completely by surprise how fast it went in, and it felt somewhat like being punched in the intestines.
I
really hurt
, but at the same time I was in ecstacy by the fact, that for the first time I had been able to impale myself with every inch of the dildo - and that I had stretched my ass wider than ever before!
It had actually felt like the ligaments of my pelvis had been stretched as well! I don't know if that's possible, but if it is…. then there is just about no limit to how much it's possible to stretch.
And Miss M. will some day be able to force her whole foot deep inside me.
There was a little bleeding afterwards since the skin of my anus had been torn just a little bit but nothing serious to be concerned about. You can see it in the video when the dildo slides back out.
Just out of curiosity we measured Miss M.'s foot to compare it with the dildo, and the circumference of her foot is 31.5 cm….. only 1.5 cm more than the dildo.
I know the shape is different, and it's not as soft as the dildo. But it leads me to believe, that we'll soon be showing you some "footing". So stay tuned….
slave p.


Don't forget to follow us:



OnlyFans
Pornhub

Twitter

Tumblr
Instagram