04–03-2018
Chastity tattoo

My slave is my personal property and I can use him in every nasty way I want to. For a long time I had been thinking about giving him a new tattoo as a permanent sign of my ownership.
As you may know, I have locked my slave in chastity. He gets no orgasms and he wears a cock cage made of steel every day from the moment he leaves the shower in the morning till he comes to bed at night.
I love knowing that nobody can gain access to my slave's cock - not even himself - without my permission. I wear the silver key to his cock cage in a chain around my neck, so I thought a drawing of a key would be the perfect symbol of my ownership and work as a permanent reminder to my beloved slave to make sure he NEVER forgets who owns him.
I asked our followers on Twitter and a vast majority of 83 % agreed with me…. they are so kinky!!!!
I made a quick drawing of a key and sent it to our favorite tattoo artist along with a description of what I had in mind - and then I made an appointment for my slave.
All this happened about a month ago and yesterday - after a wonderful night at a hotel with my lucky slave - he drove us to the tattoo parlor where he was to be permanently marked as my property with the most wonderful tattoo of a key bearing the first letter of my name in red.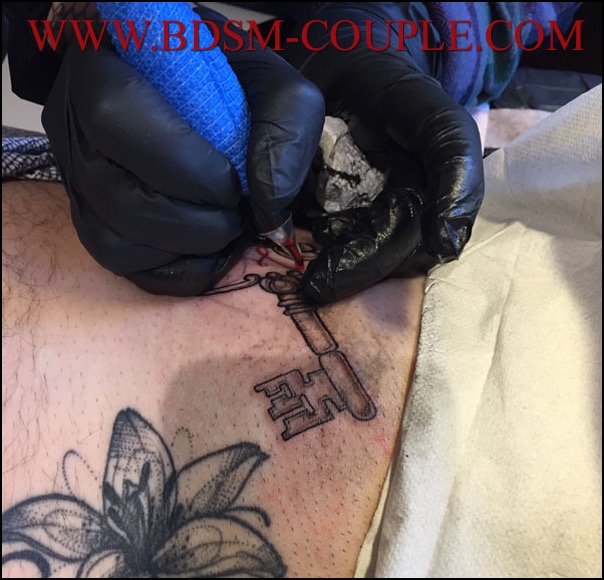 I was so looking forward to making my slave even more beautiful, and the fact that
I had the power
of deciding that he should have a tattoo made me so horny!
Getting a tattoo is a painfull experience and the skin on the hip is rather sensitive. I could tell that my slave was in pain all along …. and
I REALLY
enjoyed every second of it!
Usually I am the only one inflicting pain to my slave and torturing him, but much to my surprise I must admit, it made my pussy soaking wet to watch someone else do it at my command!!!
I suspect my slave enjoyed it too; afterwards he told me he was a bit disappointed that it was over so soon. He is such a naughty boy - but now he is a naughty boy wearing a permanent sign of my ownership on his hip.
Watch full videos and all photos on my
LoverFans
:-)
Miss M.


Don't forget to follow us:


Clips4Sale

LoverFans
Pornhub
Twitter
Tumblr

Instagram