30-07-2017
Permanent male chastity

I have read a some interesting articles about permanent male chastity and how it affects a mans mind and way of thinking NOT being allowed to cum for a very long time. I find this VERY interesting and to be honest the concept of ME locking up my slaves cock for as long as I chose is MARVELOUS!

How long should it be? For weeks .…? For months ….? For years….?! It´s all up to ME and it really turns me on!

According to the articles I have read the effect of forced male chastity is AMAZING. Literally holding the key to my slaves sex life he will depend 100% on me to cum. No more erections since the pain from the devise will make it impossible to get hard and no more masturbating in secrecy. He will only have one thing on his mind: to make me so happy and content that I might reward him with an orgasm. What´s not to like Ladies?!

I told my slave to find the perfect chastity device and among the ones he suggested I chose …. TADAAAA:
The Looker 03 from Steelworxx. Normally we don´t link to people selling stuff but I am SO EXCITED about this marvelous and beautiful steel device!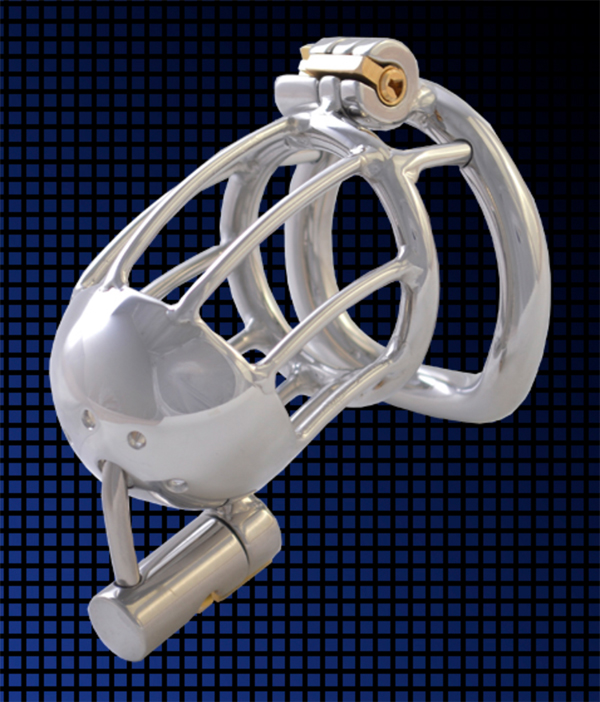 As you can see in the photo it´ll be completely impossible for my slave to free his cock from this wonderful device once I have locked it. The shackle through his Prince Albert piercing makes absolutely sure of that!

Apart from my slave thinking only about how to please me in any way imaginable I am curious about another thing I have read about: will my slave find satisfaction in my orgasms when he is not allowed to have any himself? In other words … will my orgasms replace his own and satisfy him as well? I hope so. But come to think of it - it´s not really my problem is it?

Unfortunately it´ll take about two months before the device arrives but this only means that I´ll have plenty of time to make my evil plans. Not being able to touch his cock will be a completely new and rather extreme experience for my slave. I´ll give him some time to get used to wearing the devise permanently - mentally and physically. His mind and his skin will need time to adjust to wearing it. When we get the device I´m planning to let him wear it for an hour or so the first time and then gradually make him wear it for longer and longer periods of time. Two hours the next time. Then three hours and so on….

On New Years evening 2018 I would like to lock the device around his cock and balls and kiss him. Then I´ll tell him that his cock will be locked up 24/7 for at least three months. He will NOT be allowed to cum and extra time will be added to his sentence every time he disappoints me. I can't wait to see his reaction!

Watch full videos and all photos on my LoverFans :-)


Miss M.


Don't forget to follow us:


LoverFans



Pornhub


Twitter



Tumblr


Instagram