28-07-2020
Pumping!

It's been SO LONG since I have pumped slave p.'s cock and balls, and it's really a shame, since I love doing it! But now I'm back in the pumping business!

Because of slave p.'s new cage the largest vacuum tube has suddenly become to small, but if the scrotal rails of the cage are removed, the tube is perfect. It's absolutely wonderful!

And pumping is so easy …. so much fun… and so HOT!! With very little effort from me, the effect is MARVELOUS!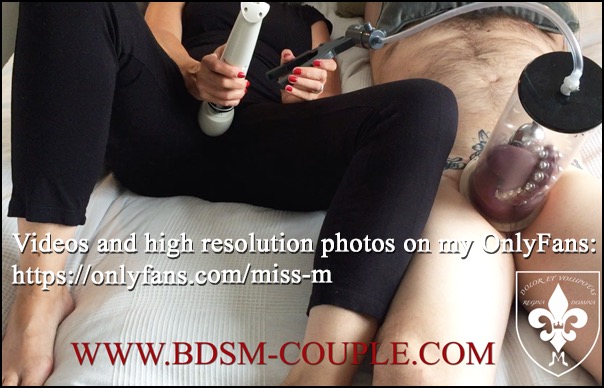 I like to pump slave p.'s cock and balls HARD, and I know it's very painful for him. So after removing the rails, the next step was to chain him to the bed in order to avoid resistance. The final step was getting my Magic Wand, and then the fun began!

I love being naked, but I also enjoy wearing clothes while slave p. is naked. It really shows who is in charge. And I am able to masturbate with my clothes on, when I use my Magic Wand. The only issue is my panties getting really messy, but slave p. is really good at licking them clean afterwards, so that's not a problem.

As his cock and balls slowly turns purple…. and I can hear the pumping becomes painful, I get so turned on and wet! The more I torture slave p.'s cock and balls the more horny I get. I really love doing it, and I was able to cum twice in no time. New time I'll leave the pump on for at least 10 minutes after I have cum - I'm so curious about how dark a shade of purple his cock and balls will get!! I'll keep you posted….

Enjoy the short video! As usual all high resolution photos and the full video is on my LoverFans.


Miss M.

Don't forget to follow us:


LoverFans


Pornhub


Twitter



Tumblr


Instagram