01-02-2021
Fucked and licking

You may have figured to out by now: I love to use my fucking machines on slave p. And for at stay in a hotel that can be reached by car, the App controlled machine was the obvious choice. Not because of the app but because it comes in a handy and discrete bag making it easy to bring along without drawing attention (read my reviews right here).


I told slave p. to secure the machine to the bed in order to keep it in place, and after the elevation and angle of the dildo was adjusted, we were ready to go. I enjoy watching slave p.'s reactions as I turn the speed of the machine up and down. I started slow to allow his ass to relax and allow the penetration. And then I started to challenge him!

The more I increase the speed the more difficulties he has relaxing his ass and avoid trying to push out the dildo. From time to time he looses control and reflexes takes over; his ass tries to push out the dildo. In vane of course. The machine is only slowed down for a brief moment when he tries, and then it continues thrusing the dildo forward deep inside slave p. who has no choice but to get penetrated once more…. over and over again.

It's so hot to control the machine and watch him struggle to stay calm and relax his ass while the huge dildo is forced deep inside him!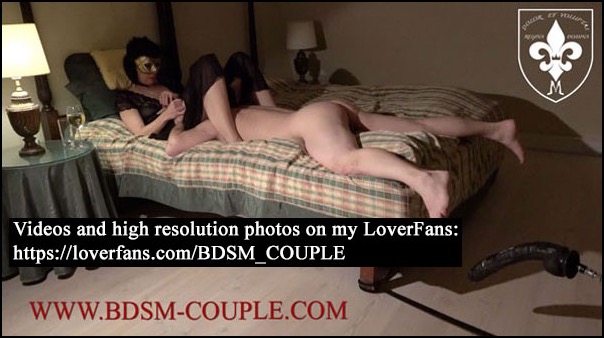 After some time my clever slave found a reason for me to give him a little break; he suggested that he should lick my pussy. The cunning little thing knows how wet and horny watching him get fucked like that makes me. So I had to allow it….. but the moment I had cum, he had to crawl back to the dildo and have another round of HARD FUCKING! Mmmmmm ……

Enjoy the photos and the short video of slave p. doing battle with the Fucking Machine - the full video is of course available on my LoverFans :-)


Miss M.


Don't forget to follow us:



Clips4Sale


LoverFans



Pornhub


Twitter



Tumblr


Instagram