MY CHASTITY SLAVES


I only have a very limited number of slave cocks locked in chastity - these are the lucky ones I have under lock and key at the moment.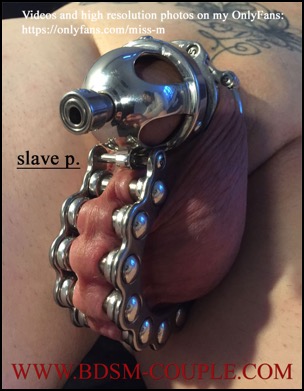 Slave p.
(key held since 26. October 2017)
My lucky husband and obedient House slave. I have him locked for many months at at time.
Or to be more precise: for as long as I feel like!
Sklave m.
(Key held since 1. March 2020)
A wounderful and very obedient German slave who really got my attention by agreeing to be locked and denied for 13 months - at least.
Unfortunately I had to unlock Sklave m. after almost 7 months due to unforeseen circumstances - but since 16. October 2020 he has been back under lock and key….. having another go at being locked and denied for at least 13 consecutive months. I like that spirit!!! And as Neville Camberlain once said: " If at first you don't succeed; try, try, try again!".
You can read a little more about Sklave m.
right here.