RENT MY SLAVE-HUSBAND






Click to read TESTIMONIALS & SERVING SCHEDULE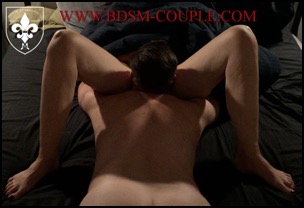 I have wonderful news for you Ladies:
Just send me an
email
or use the form at the bottom of the page if you want to rent slave p. and enjoy his amazing oral service!
Click the links to learn more:

Why am I doing this?
About slave p.
Who can rent him?
How can I use him?
Prices
Where?
Payment
Why am I doing this?
Men have been buying casual sex since the dawn of time…. but what about women?! We get horny and need to cum too! And not all of us have a partner.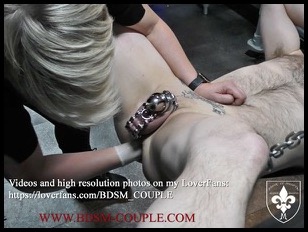 I believe it's about time women get to buy orgasms in a safe setting with a well trained oral expert - or fulfill forbidden fantasies with a 100 % obedient real life slave.
So I have decided to let my fellow women rent slave p. and enjoy his amazing tongue and experience the mind blowing orgasms I enjoy every day.
He does what I tell him to do - and I'll tell him that your are his new boss for as long as you rent him. Clear, simple and discrete!
At the moment a limited number of women are enjoying his wonderful tongue on a regular basis …… and using him in even more ways as we get to know each other…..
This is a fantasy of mine I have had for a long time: women paying me to rent my husband; slave p. I find the thought fascinating and SO HOT!
A strong symbol of my complete ownership - and perhaps even a feminist statement. It's not a "Money Machine" and this is not how we make a living.
When I send him to serve in another country he has to take time off from work - and the rent just about covers the loss of income.
His training and
development as my slave
has finally come to a point where I can make my fantasy come true and let women rent him - and he is of course happy to obey and make my fantasy come true!
About slave p.
slave p. is my husband, and I will of course expect you to take good care of him and treat him with kindness and respect - no need to yell as he knows how to obey. He is an extremely skilled and well trained slave in his forties who will do his very best to please you.
Please notice that he wears the most
extreme Cock Cage
the world has ever seen 24/7/365 and is NOT allowed to cum.
The Cock Cage stays on, so he will
NOT
be able to penetrate you.
He is well educated, handsome, obedient and able to make interesting and pleasant converstation - besides pleasing you orally - so you can even take him out for dinner or a drink before using him if you want to.
If you want it he can wear clothes that clearly shows his Cock Cage.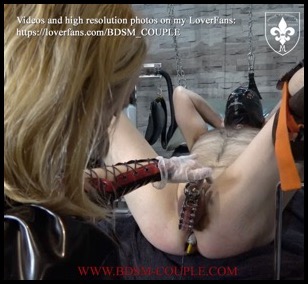 He will be the perfect gentleman holding doors and pulling out the chair for you.
And since you are the Boss you decide what you want him to eat; how about just ordering him a small salad?
Who can rent him?
All women: Old and young. Tall and short. Big and small. Housewives and businesswomen. Looks are not important. It's all about wanting an extraordinary and wonderful experience with a very special and wonderful slave - and taking a shower before enjoying my husbands tongue.
How can I use him?
Of course I am thinking about sex; his oral skills are amazing, and his ass will also be available for fisting and pegging if you want it. Only safe sex of course:
dildos in condoms
and
fists in rubber gloves
!
If you have any other ideas please don't hesitate to ask.
You are of course free to take photos and make videos as long as slave p. is wearing a mask.
Prices:
1 hour of you receiving oral service (cum as many times as you can): 150 Euros
Extra time: 100 Euros per hour
More than 4 hours: Get in touch for a price
😘
Fisting or pegging: +50 Euros
Special desires? Ask me …
+ travel expenses (plane tickets + hotel room)
Where?
I send him to all major cities of Europe. He will be available in his hotel room or at a Studio if you prefer that.
Payment
Payment in advance. If you cancel before I book plane tickets and hotel the travel expenses + 50% of the price will be refunded.
Enjoy Mistress Noir recommending my wonderful toy in this little video - she is so sweet!!


Miss M.




TESTIMONIALS
Lady Asmondena
(Hamburg, Germany)
Miss M. contacted me some time ago and asked me if I'm interested in meeting her slave husband for some kinky fun.
After I studied her profile and webpage, I was amazed by the truly wonderful and intense bdsm marriage both of them are living. It's rare these days, to meet new people who aren't fake;)
She enjoys to send him around to get used by other mistresses. She's always in charge where he will be sent to.
As a true fisting enthusiast, I was exited to meet him as his ass can take a lot what I could see from the preview clips.
We exchanged a few emails about go's & limits and we were both fine with the idea that I can just use him the way I want
😈👌🏻
Packed with a suitcase of the largest Mr. Hankey Toys, he was sent to Hamburg.
I'm very hard to please & I expect true submission of the devotees which come to serve me, but I must say that slave p. did not disappoint.
He was on time, good smelling, clean and very submissive & respectful. Miss M. has done a great job teaching him what it is all about. Well done.
Of course I did what I love most and fucked & fisted him in the most extreme way you can imagine.
I had a great time stuffing him like a turkey.
Clips can be found online:
Lady Asmondena
,
BDSM-COUPLE
.
I'm already planing & plotting the next kinky ideas with Miss M. for slave p.
The BDSM Couple is highly recommend by me & I had the best experience using slave p.



—————————————


Dominatrix Sheba (Plymouth, England)
I had the pleasure of playing with slave p. yesterday together with Lady MK, and I thoroughly enjoyed the experience. He was polite, clean and wonderfully obedient throughout the session.
We started with some nipple play and tickling. I had heard that he has very sensitive nipples so I bought My nipple clamps along. He did not complain once but the look on his face when I mentioned the clamps was priceless. He is also very ticklish and we had great fun teasing and tormenting him. He squirms about fantastically.
After that, we spanked and caned his backside before moving on to fisting his wonderfully accommodating asshole. I got my arm in almost up to the elbow!
We finished the day with a spit-roasting session, with Lady MK on the ass end with an enormous dildo, and Myself at the head end (with a slightly smaller dildo).
We did wonder if the dildos might meet in the middle at one point.
slave p. is genuinely lovely and it was a privilege to use him. I look forward to doing so again one day.
Thank you Miss M for sending him - You have trained him very well and he is a credit to You. Please send him back to the UK again soon.
Sheba x


—————————————


Mistress Tirza
(Uithoorn,
Holland)
Hi there! Thanks for sharing your good slave-husband. He can take a lot in his ass
💜
so I was trying my feet
🦶🏼
in his ass after stretching with your dildos (they were perfect
🤩
), and my feet went almost total inside him - only about 2 cm was sticking out - and I think it was a super performance from your slave-husband! He was taking all the anal very good and did his best: he is perfectly trained
💜🥰
and Mistress Noir and I double fisted him together
☑️🙌
.
I had a very nice day and I loved this experience!!

—————————————


Miss Anna Lynx (Amsterdam, Holland)

I I had a great time with slave p. I got asked to use him together with Mistress Noir and it was my first experience with domination. I must say, he was a perfect training slave for me, very obedient and polite. I could fulfil my fantasies while trying BDSM practices on him. All what I did to him was very new to me and he bore it all with patience. I even fisted and pegged him! His cock cage was very impressive, I have never seen something like this before! Outside the playroom slave p. also showed impeccable manners and sweet character, so the whole meeting was actual pleasure, both physically and mentally. Big thanks for organising this all!!!
❤️
Miss Anna Lynx


—————————————


Selma (Lund, Sweden)

I had a hot time with slave p. I had asked for that he should be naked and kneeling on the floor and kiss my feet when I came into the hotel room and he did! I have never seen a cock cage like this before and he was just like Miss M. had promised me that he would be like. Polite. Obedient. Sweet. Clean. Open. It was my first time anal fisting and I was surprised how easy it was for me to get my whole hand inside him and I loved the feeling of using a naked slave. I know I could have pushed my hand deeper inside but maybe next time because there will be a next time! 100% sure !!!!!


—————————————


Goddess Aveena (Worcester, England)

I have followed BDSM couple for a while before and have loved watching from afar the FLR lifestyle that is truly fascinating. One of the sisters of solidarity (group of uplifting and supportive Dommes) Lady MK has recently had slave p at her mercy and has spoken about how much fun she had. I mentioned to Lady MK I'd love the chance to team up with her and get involved.
On arrival slave p was exceptionally attentive, and of course, I had to ask him about the fabulous chastity he's currently in with Miss M holding the keys and rightly so.
First Lady MK and I decided to start off with a tease and denial while each using slave p for a very intimate facesitting. Each teasing with every curvature of Our bodies. After slave p. is nicely aroused, we take him to the dungeon area, wrapping him in shrink wrap so he's tightly bound and with nowhere to go. Taking it in turns to put Our whole hands inside slave p. We even managed to stretch him enough to hold hands inside him. Our biggest challenge of the evening was to see if I was able to put my whole foot inside him. Did he take it? Haha, well, that would be telling, and why would I do that when you can see then action for yourself?
Have a peek at all the fabulous content Miss M. and slave p. have amazingly shared with the world. I highly recommend working with this fanatic couple. Slave p. is so well trained and a credit to Miss M. How obedient and well he serves! Miss M is truly an amazing woman, and I certainly can't wait to see what else She has in store for slave p.
Thank you both for an amazing experience and the content. It's a stunning reminder of the day.
All My love Goddess Aveena
❤️


—————————————


Goddess Vivienne l'Amour (Derby, England)
Your slave-husband was a credit to you. He was bright, polite, well-experienced anally, orally, can take pain and heavy bondage perfectly. His chastity cage was beautiful to see on film. He did everything that was required of him without question or hesitation. He was organized, low-maintenance and helpful. Highly recommended. 10/10. He is welcome back for more filming again.


—————————————


Sofia (Firenze, Italy)
Slave p. is very open and clean and very nice. And he was my first anal fisting experience and the first time I have payed for having sex. He did everything I told him to do and I had hot fun! WOW!!!

Lots of love and hugs from Sofia in Firenze!


—————————————


Lady MK (Devon, England)
Wow, what can I say about Slave p?! Well, I was kindly asked by Miss M if I could step in for another mistress for Slave P to serve me after a cancellation. And of Course I said "YES!" and jumped up at the chance! I have followed their Twitter account for quite sometime and I was extremely impressed at his anal skills, not to mention the famous cock cage he wears 24/7
😍
and being an anal enthusiast I couldn't wait for the chance to get my hands, fists and arms deep inside! How could I say, "no?"
🤷‍♀️


After thorough communication with Miss M, we planned a few fabulous scenarios (anal) being the primarily topic. Slave P and I met in the reception area of the hotel, then he showed me to his room where all the fun began. Tho, not to mention the big bottle of champagne that was presented to me when arriving to his room. (He was so unaware that I to had champagne/nectar too to present to him to
🥂
😉
)

Slave P is well mannered, very respectful, very clean, obedient (as Miss M said he would be) and he will cater to your every need/needs and he was/is very accommodating.

We filmed the extensive (hard) anal session as well as various other scenes for those who want to see the footage, you can see them on our platforms
I most certainly enjoyed Slave P and his company.

Until next time Slave P
😉
and thank you Miss M.!

Lady MK
♥️



—————————————


Amira (Copenhagen, Denmark)
I have watched your anal fisting videos you post on Twitter for years and I love what you do with your slave and I love his cock cage. I have been longing to try and fisting a mans ass for so long. But my husband is not into anal at all and the thought of fisting someone else who is not 110% clean has kept me from making my fantasy come true. Thank you for answering all my many many many questions and making me feel safe about renting your slave and senting him to me. He is very sweet and was patient when I got nervous in the beginning. And he was totally 110% clean just as you promised me. We had a good laugh and some drinks before and after my fisting debut. Thank you Miss M.!!! And thank you slave p.
❤️
I have told my husband that I want to have slave p. again for my birthday


—————————————


Mistress Baton (South Africa / London, England)
I met slave p. in London in April 2022, when Miss M sent him to me for judicial caning training.
He was everything I expected after my thorough correspondence with Miss M; and more. He is friendly, obedient, clean and fun to play with. He not only looks good on camera and is a satisfactory masochist & submissive, but he delivers in terms of content creation. I am looking forward to seeing him again. I highly recommend booking him.


—————————————


Sarah (Malmo, Sweden):
Just a little follow-up-review because I have had slave p. 5 times now and I am getting to know him well and it keeps getting better and better. He is so sweet and obedient. I don't use him for fisting or BDSM only cunnilingus and his tongue work is second to none and I am always looking forward to his next visit :-)


—————————————


Mistress Cara (owner of Yorkshire Fetish Studio):
Miss M. sent her slave husband to visit me for 24 hours and what a time we had. I can definitely recommend him to anyone who wishes his services. He was very well mannered and very well trained.

I wanted to interact with a very experienced slave and I was not disappointed in any way. His knowledge and understanding of sensation play was very intoxicating and we both enjoyed our time together. Thank you Miss M. and I am already looking forward to next time!


—————————————


Syja (Leicester, England), November 2021:
As you know I was very nervous and shy but surprisingly when I went thru the hotel's door I started to feel more confident and very curious: what's going to happen and how will it be.

Your slave was waiting for me at the table. When he saw me he stood up to welcome me by kissing my hand.

Then we started to talk. He was very polite and I must say he behaves like a real gentleman. He answered all my questions in very satisfying way.
After a few drinks I decided to use him and check his tongue skills. After entering the room I ordered him to get naked so I could inspect him properly. All the time he was very submissive and he followed all my orders. Then I decided to feel his tongue….. it was an amazing experience (later I couldn't resist to ask him to do it again!)

As you said I would I had a very very good time and I'm very happy that I did it Thank you very much for all your help
🤗


—————————————


Sarah (Malmo, Sweden), October 2021:
He seemed very nervous when I opened the door but it didn't take long for him to get over it after I told him to get naked and start kissing my feet. He's very obedient and well mannered and very sweet in an innocent way. I have never seen anything like his cock cage. His tongue was amazing. And I loved the way he looked at me with his blue eyes while he licked. 10 stars from me!!


—————————————


Mistress Noir (Amsterdam, Holland), September 2021:
On September 27th slave p. was sent to me by Miss M. I used him for anal play, nipple play and i also did some spanking. When he arrived he had a nice bottle of champagne with him and we enjoyed that during our session.

I have never met a slave that can take that much up his butt! He was already so well trained by Miss M. so it was very interesting to see what i could shove up his ass. He even took the biggest dildo that i had, truly exceptional!!

When i went over to nipple play there was a very different energy. He was a nipple play virgin so it was hurting a lot. That didn't stop me from using them of course. ;-) Eventually he took all the pinching and clamps like a pro. Without any nagging or wining. Respect for that!
To finish off the session i decided to whip him and create some nice marks for him to take home and show to his Mistress-wife. His ass was very sore after this. (Inside and outside)
🤪
Love it!

When the session was finished i gave him the big dildo to take home. Since his suitcase was already full he had to take it along in his hand luggage. ;-) Afterwards i got a message from Miss M. that he got checked at the airport and the officer even asked another (female) officer to take a look at the huge thing! Whahahha! That really made my day.
😜


For the people who are interested: We filmed the sessions and you can find them on our platforms.

I had so much fun using him. He is truly a good slave and person and i enjoyed every moment of it. A big thanks to Miss M. for lending out her slave husband.
❤️
And of course a big compliment for slave p. for being such a good boy. (And for having such a big ass).
😜


Lots of love from Holland.


💋
Mistress Noir







SERVING SCHEDULE
Malmo, Sweden: 11th of January 2023
Hamburg, Germany: 9th of November 2023
Amsterdam, Holland: 27th of October 2023
Amsterdam, Holland: 26th of October 2023
Amsterdam, Holland: 25th of October 2023
Lisboa, Portugal: 21st of September 2023
Lisboa, Portugal: 20th of September 2023
Lisboa, Portugal: 19th of September 2023
Malmo, Sweden: 26th of August (serving off camera)
Malmo, Sweden: 25th of August (serving off camera)
Copenhagen, Denmark: 17th of August 2023 (serving off camera)
Amsterdam, Holland: 2nd of August 2023
Amsterdam, Holland: 1st of August 2023
Hamburg, Germany: 20th of July 2023
Malmo, Sweden: 23rd of June 2023 (serving off camera)
Derby, England: 9th of June 2023
Derby, England: 8th of June 2023 (serving off camera)
Oslo, Norway: 22nd of May 2023
Lund Sweden: 17th of May 2023 (serving off camera)
Hamburg, Germany: 25th of April 2023
Uithoorn, Holland: 14th of April 2023
Amsterdam, Holland: 13th of April 2023
Lund Sweden: 20th of March 2023 (serving off camera)
Firenze, Italy: 16th of March 2023 (serving off camera)
Copenhagen, Denmark: 9th of February (serving off camera)
Worcester, England: 11th of January 2023
Derby, England: 10th of January 2023
Malmo, Sweden: 17th of December 2022 (serving off camera)

Doncaster, England: 6th of December 2022
Leicester, England: 5th of December 2022 (serving off camera)
London, England: 16th of November 2022
Amsterdam, Holland: 3rd of November 2022

Malmo, Sweden: 27th of October 2022 (serving off camera)

Copenhagen, Denmark: 11th of October 2022 (serving off camera)
Firenze, Italy: 15th of September 2022 (serving off camera)
Malmo, Sweden: 8th of September 2022 (serving off camera)
Devon, England: 3rd of September 2022
Amsterdam, Holland: 4th of August 2022
Doncaster, England: 11th of July, 2022
Malmo, Sweden: 9th of June, 2022 (serving off camera)
Copenhagen, Denmark: 8th of June, 2022 (serving off camera)
Amsterdam, Holland: 23rd of May 2022
Malmo, Sweden: 11th of May 2022 (serving off camera)
London, England: 21st of April 2022
Malmo, Sweden: 10th of April 2022 (serving off camera)
Leicester, England: 23rd of March 2022 (serving off camera)
Doncaster, England: 22nd of March 2022
Malmo, Sweden: 16th of February 2022 (serving off camera)
Amsterdam, Holland: 17th of January 2022
Malmo, Sweden: 13th of December 2021 (serving off camera)
Amsterdam, Holland: 29th of November 2021
Leicester, England: 9th of November 2021 (serving off camera)
Malmo, Sweden: 22nd of October 2021 (serving off camera)
Amsterdam, Holland: 27th of September 2021
Don't forget to follow us:


Clips4Sale
LoverFans
Pornhub

Twitter

Tumblr

Instagram