RENT MY HUSBAND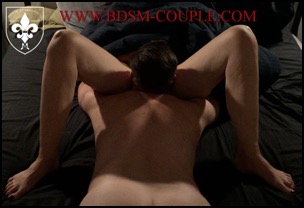 I have wonderful news for you Ladies:
Just send me an
email
or use the form at the bottom of the page if you want to rent slave p. and enjoy his amazing oral service!
Ass soon as the travel restrictions due to COVID-19 are lifted I'll be sending him to:
- London (England)
- Malmo (Sweden)
- ??
Click the links to learn more:

Why am I doing this?
About slave p.
Who can rent him?
How can I use him?
Prices
Where?
Payment
Why am I doing this?
Men have been buying casual sex since the dawn of time…. but what about women?! We get horny and need to cum too! And not all of us have a partner.
I believe it's about time women get to buy orgasms in a safe setting with a well trained and well behaving oral expert.
So I have decided to let my fellow women rent slave p. and enjoy his amazing tongue and experience the mind blowing orgasms I enjoy every day. He does what I tell him to do - and I'll tell him that your are his new boss for as long as you rent him. Clear, simple and discrete!
I would love a limited number of women enjoying his wonderful tongue on a regular basis with a discount…… and using him in even more ways as we get to know each other…..
This is a fantasy of mine I have had for a long time: women paying me to rent my husband; slave p. I find the thought fascinating and SO HOT. A strong symbol of my complete ownership - and perhaps even a feminist statement!
His training and
development as my slave
has
finally
come to a point where I can make my fantasy come true and let women rent him - and he is of course happy to obey and make my fantasy come true!
About slave p.
Slave p. is my husband, and I will of course expect you to take good care of him and treat him with kindness and respect - no need to yell as he knows how to obey. He is an extremely skilled and well trained slave in his forties who will do his very best to please you.
Please notice that he wears the most
extreme Cock Cage
the world has ever seen 24/7/365 and is NOT allowed to cum.
The Cock Cage stays on, so he will
NOT
be able to penetrate you.
He is well educated, handsome, obedient and able to make interesting and pleasant converstation - besides pleasing you orally - so you can even take him out for dinner or a drink before using him if you want to. If you want it he can wear clothes that clearly shows his Cock Cage.
He will be the perfect gentleman holding doors and pulling out the chair for you.
And since you are the Boss you decide what you want him to eat; how about just ordering him a small salad?
Who can rent him?
All women: Old and young. Tall and short. Big and small. Housewives and businesswomen. Looks are not important. It's all about wanting an extraordinary and wonderful experience with a very special and wonderful slave - and taking a shower before enjoying my husbands tongue.
How can I use him?
Of course I am thinking about sex; his oral skills are amazing, and his ass will also be available for fisting and pegging if you want it. Only safe sex of course:
dildos in condoms and fists in rubber gloves!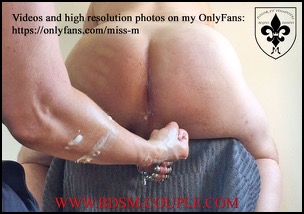 But I am also thinking about having him serving drinks at parties or hen nights wearing only his Cock Cage.
Or how about him being a decorative table piece while you have dinner with your friends? Or have him shave your pussy?
Or what about having him clean your house wearing nothing but his Cock Cage?
If you have any other ideas please don't hesitate to ask.
You are of course free to take photos and make videos as long as slave p. is wearing a mask.

Prices:
1 hour of you receiving oral service (cum as many times as you can): 150 Euros
Extra time: 100 Euros per hour
More than 4 hours: Get in touch for a price
😘
Fisting or pegging: +50 Euros
Waiter at party / hen night (6 hours): 600 Euros
(including oral service for all female guests who wants it)
+ travel expenses
Where?
We travel to all major cities of Europe. He is delivered to your home or to a hotel room rented by you.
Payment
Payment in advance. If you cancel before we buy plane tickets the travel expenses + 50% of the price will be refunded.